REAL ESTATE EXPERTISE
FROM A SINGLE SOURCE.
The FBW GRUPPE covers the full value chain for real estate, which begins even with the purchase of the plot and spans property development, sale and management. Here, the FBW GRUPPE bundles all the required competences in one source and has therefore been a reliable partner for buyers and tenants, as well as banks and investors, for more than 15 years.
Residential Properties
On the one hand, a house should be a home. On the other hand, it needs to be a profitable investment of capital with major potential to increase in value. In order to do justice to both requirements, FBW PROJEKTBAU places particular emphasis on high-quality construction. Regardless of whether it's townhouses, apartment blocks, residential complexes or commercial property being built, it's the developer's job to create lasting value.
Properties in our portfolio
FBW Immobilien & Grundbesitz was founded in 2016 with the aim of being able to react robustly to fluctuations in interest and projects. It is far more than a classic real estate management company. The property portfolio is managed by the in-house Asset Quality Management team and is being continually developed through real estate acquisitions. The existing asset inventory with a real estate value of EUR 100 million generates EUR 4.2 million in rental income.
Investments and participations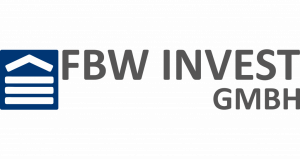 FBW Invest is the investment arm of the FBW GROUP. The company invests in property or companies either on its own or in the framework of joint ventures. The investment focus is on digital start-ups and their growth potentials. In this context, FBW Invest draws on the long-standing experience and extensive know-how of the team and management in the fields of real estate and financing, not to mention their expertise in the fiscal side to transactions.